A BIG Valley College THANK YOU to all medical personnel working on the front lines to combat the spread of the COVID-19 virus, including SO MANY of our graduates. We've never been more proud of your hard work on behalf of all of us.
Pictured here is: Bonnie Hess & Laura Dodd – Medical Assisting Graduates, Noah Hernandez – Medical Assisting Graduate, Patience Wcislo – Medical Assisting Graduate, and Jamie Kershner – Medical Assisting Graduate. Thank you for all you do!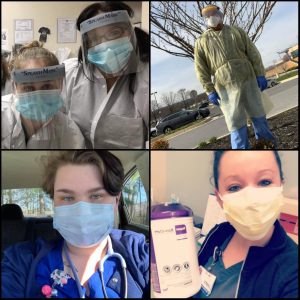 Education & COVID-19 – Supporting Your Success!

Ground Campus Programs Temporarily Moved to Remote, Instructor Guided Learning
Thinking about a career change? These uncertain times don't mean that you need to put your goals on hold. You can take this moment to be productive, proactive and get yourself ahead for when the world gets back on its feet. Valley College has temporarily switched all ground programs to remote learning. It is our goal to continue supporting our students through this this time in the safest manner.
Online Training Continues Uninterrupted
Online training at Valley College has and always will be a perfect choice for busy students who need more flexibility than our on-campus, hands-on training allows. Our selection of online-only programs were carefully developed with the input and needs of area employers in mind and are implemented with the same "culture of caring" by skilled, caring instructors and a support team of student success coaches who are there for you every step of the way.
For more information visit our website at www.valley.edu or call the numbers below.
Valley College Cleveland:
8700 Brookpark Rd
216-453-8201
Valley College Akron Info Center
2884 S. Arlington Road
330-969-8200