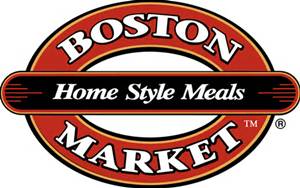 Boston Market was founded in 1985 as Boston Chicken then became Boston Market in 1995 after adding additional proteins such as: Turkey, Meatloaf, Prime Rib and Baby Back Ribs.
We make the best rotisserie meals around, so you can spend time connecting, not cooking. We serve food you can feel good about, from our rotisserie chicken and prime rib, to our flavorful sandwiches and salads, to the cornbread we bake fresh every day.  Join our Rotisserie Rewards program for free food and additional discounts.
Just wanted to call out, National Rotisserie Chicken Day is Wednesday, June 2nd.  All day long you can get a whole rotisserie chicken for just $5! While you're visiting us don't forget about grabbing a dessert.  We have 7 new desserts that are unique to the quick-service industry.  My personal favorite is the Salted Caramel Lava Cake but you will not be disappointed in any of them!
Boston Market
Dan Corrigan
Field Marketing Manager
4742 Ridge Road, Brooklyn, OH 44144
(216) 459-1500
Website: https://www.bostonmarket.com/
Email: dcorrigan@bost.com