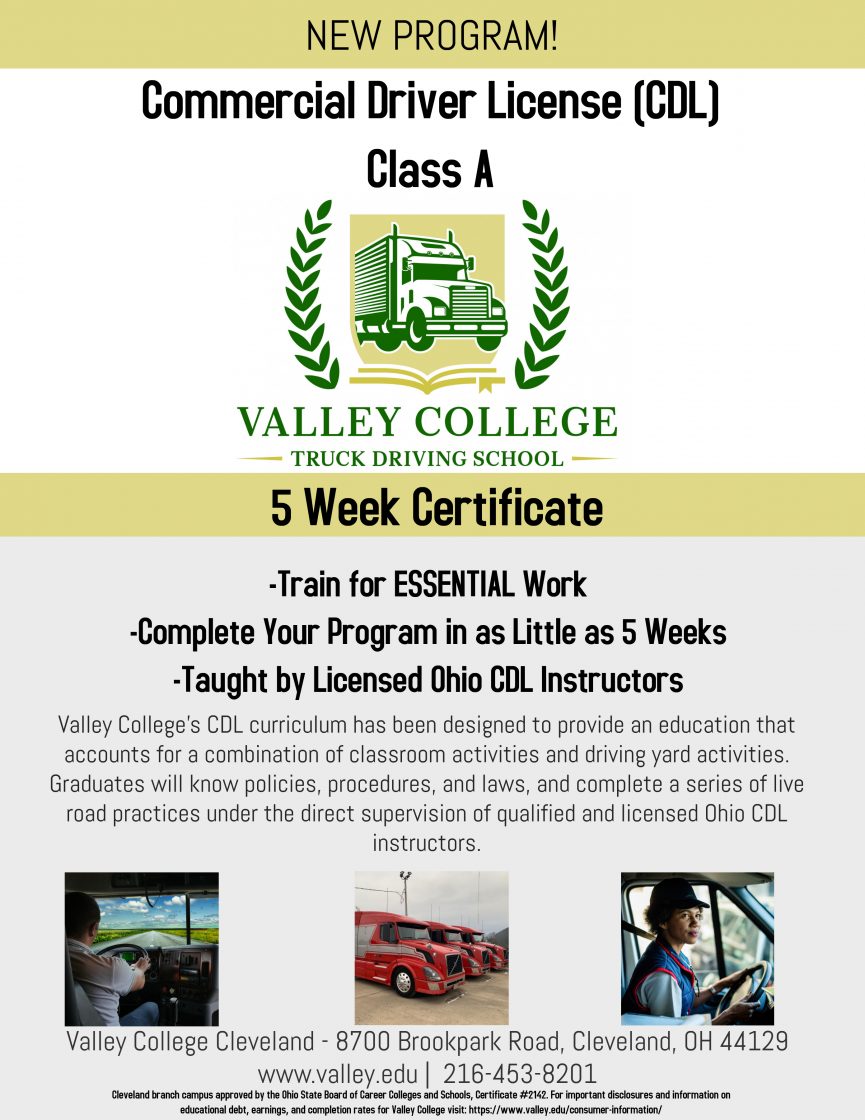 Valley College is pleased to announce the release of a new On-Campus Certificate program, the Commercial Driver License (CDL) Class A Certificate! We are now enrolling for our CDL program and the official launch date of the new program is July 6, 2020.
The Commercial Driver License program prepares graduates in 5 weeks to enter the workforce with an assortment of essential truck driving skills. Graduates are taught these practical based skills through both classroom instruction and on the road training. By the end of the program, Graduates will be eligible and fully prepared to take the Class A Commercial Drivers License Exam.
Valley College was founded in 1987 to deliver career education programs to local communities.  Today, Valley College offers On Campus Medical programs and Veterinary programs, and now we have expanded our program offering by bringing the Commercial Driver License program! Valley's On Campus programs are complemented by Online Medical Diplomas, and Online Degrees in the Business, Medical and Cybersecurity disciplines.
"We are very excited to bring the CDL program to the Cleveland area. There is a large need for additional qualified professional drivers to join the commercial driving industry. We believe that Valley's new CDL program will help fill that need through the graduates from our program. The  CDL program will become a huge asset for the community, those individuals looking for a new career, and the commercial driving industry" stated Dr. Richard Lombardo, Vice President of Education and Development.
Valley College continues its mission of delivering flexible, career oriented in-demand programs to the communities it serves.
For More Information Contact:
Lynn Mizanin
Regional Director – Ohio Operations
216-453-8201
lmizanin@valley.edu