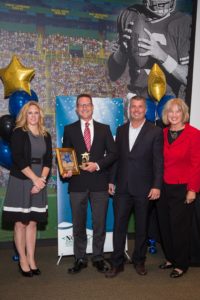 The Chamber Bright Stars for 2016 were recognized on Thursday, October 27th   at the semi-annual Chamber Leadership meeting and ninth annual Chamber Bright Star Awards presentation of the Northern Ohio Area Chambers of Commerce (NOACC) in the Pro Football Hall of Fame in Canton, Ohio.
About 40 chambers of commerce across northern Ohio nominated a person from their chamber as their "Bright Star," to recognize a chamber member who has "made a significant impact on the chamber through membership, retention, sponsorship, economic development, operations and/or education."  Each Bright Star is an active chamber member for no less than two years and is likely to be an unsung hero or a dedicated behind-the-scenes volunteer.
David Nodge with Brooklyn Adult Activities Center/ Cuyahoga County Board of Developmental Disabilities was the Brooklyn Chamber of Commerce's Bright Star recipient for 2016.  He accepted his plaque and trophy from Cindy Caldwell, NOACC Chairman and Executive Director of the Beachwood Chamber at the presentation.  
David Nodge has been a very active member of the Brooklyn Chamber, serving as Board Vice President, heading up the scholarship committee, and volunteering at the Chamber's annual events.  He is always willing to help the Chamber reach its goals and achieve success.  The Brooklyn Chamber of Commerce and the community are truly appreciative for everything that David continues to do to make Brooklyn a great place to live and work.
These volunteers represent a wide range of involvement with their respective chambers, some having been a member and or officer or committee chairman for 20+ years and some being newly involved but each of whom has given freely of his/her time, working hard for their chambers without any expectations.
This is the ninth year for the Chamber Bright Star Awards, and again has given an opportunity to recognize these volunteers among their peer groups, as chamber representatives, board members and spouses were also be in attendance.
Cindy Caldwell, NOACC Chairman said "A chamber's success is due in great part to the support from its volunteers.  They are the true cheerleaders of our organizations and deserve our praise and appreciation regularly."
All the Bright Star photos and information from previous years is available at www.noacc.org/brightphotos.html.  A link to the photos and video from this year's event are posted on the www.noacc.org website.