Each year, the Brooklyn Chamber of Commerce honors a large and small business as Members of the Year.  Recipients of these awards are members that go above and beyond to support the Chamber and its mission.  Congratulations to Westbrook Village Apts./K&D and KeyBank, on being awarded the 2017 Members of the Year!  The awards were presented at our Holiday Social on November 9th.  Be sure to congratulate these members the next time you see them!
Large Business – KeyBank
KeyBank was one of the Chamber's founding members, back in 2002, and has been active ever since.  They have supported all of the Chamber's events through sponsorships, including helping to make the fireworks at Picnic in the Park a reality this year.  KeyBank also donates raffle prizes, flyers for Picnic in the Park, and sends volunteers to help make our events a success.  They have graciously hosted several of our luncheons through the years.  Jennifer Piechowski with KeyBank, has served on our Board of Directors since 2015.  She has been integral in helping our relationship with KeyBank grow through the years.  The Brooklyn Chamber and community are lucky to have such a supportive business in the area!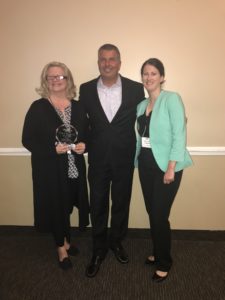 Small Business  – Westbrook Village Apts./K&D
Westbrook Village Apts./K&D, has been an active Chamber member since 2007.  Denise Christescu with Westbrook Village Apts. has volunteered countless hours serving on our Board of Directors, volunteering time at our events, and participating in planning Picnic in the Park and Taste of Brooklyn.  She has also coordinated her staff to volunteer their time at our events to assure their success.  The staff at Westbrook Village Apts./K&D have not only volunteered their time, but they have also donated gift baskets and have worked to promote and sponsor our events.  They also do an amazing job hosting a luncheon at their office each year.  Denise and the Westbrook Village Apts. staff have been extremely supportive of the Chamber's mission and in making our events a success.  They are a true asset for both the Chamber and the Brooklyn community!