As most of you know, the U.S. Shuai Chiao Kung Fu Academy located right here in Brooklyn, Ohio recently had the opportunity to travel with Team U.S.A. to the 2014 World Championship Shuai-Jaio Tournament in Rome, Italy! What an experience!
The 3 day tournament was from Friday, May 16th – Sunday, May 18th. Team U.S.A. had 28 competitors and an 18 person support unit. The entire tournament had over 200 competitors and 26 countries were represented! After many, MANY tough fights, Brooklyn's team representatives were able to achieve 2 medals and Team U.S.A. took FIRST PLACE for the whole tournament!
The overall experience of being in Rome was obviously amazing but one of the things that I loved most was the comradery between countries! Even though we were trying to slam each other, after the fight we would hug, get a picture, exchange emails and Facebook and congratulate whoever the winner was! We may never see these people again or we may end up running into them at a future tournament (Next year China is the host!) but whatever the case we are one big Kung Fu family that I'm more than happy to be a part of!
Jessica M. Cliff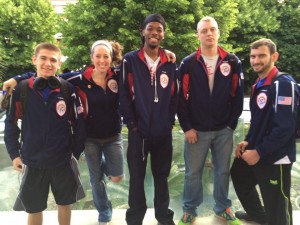 Pictured Above:  Local Affiliates for Team U.S.A. from left to right: Cody Orahoske,
Jessica Cliff, Daniel Cliff, Chad Hudson, and Dan Gibson