We would like to congratulate our 2017 Scholarship winners.  Each student received a scholarship in the amount of $2,000.  The recipients were in attendance at our June luncheon to receive their awards.  Below is an impressive list of their accomplishments.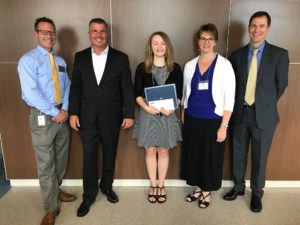 Alexandria Badza
Alexandria is a 2017 graduate of Brooklyn High School, graduating 2nd in her class.  During her four years of high school, she served on student council and was President during her senior year.  She played on the varsity soccer team, was a member of National Honor Society, and excelled in many AP and honors classes.  Along with her dedication to school, she has also been working as a lifeguard at the Brooklyn Recreation Center.  In 2016, Alexandria received the Cleveland Technical Award, which is given to those who show excellence in math, science, and engineering.  Alexandria will be attending Cleveland State University in the fall and plans on studying computer engineering.
Katerina Lappin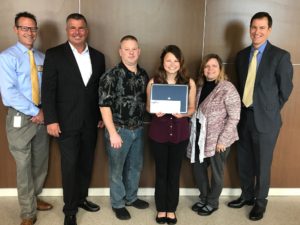 Katerina is a 2017 graduate of Brooklyn High School.  She is currently working on her private pilot's license and was named as an ambassador for the Aeronautics Program at Polaris Career Center.  Katerina has volunteered countless hours at her church as a classroom helper in the nursery, preschool teacher, and has gone on in-state mission trips.   She played the flute and piccolo and was a squad leader for the Brooklyn High School marching band.  She has also competed in fine arts, dance, and puppetry competitions.  Katerina will be attending Kent State University in the fall and plans on studying flight technology.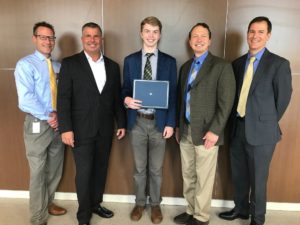 Allen Morinec, Jr.
Allen is a 2017 graduate of St. Ignatius High School, graduating in the top five percent of his class with an accumulative grade point average of 4.36.  During his four years in high school, Allen developed and tutored NHS students and led free ACT prep classes.  He played the trumpet in the Cleveland Youth Orchestra, was a lead trumpet in the jazz orchestra, and a member of National Honor Society.  He was a member of the St. Joseph of Arimathea Pallbearer Ministry and he also volunteered his time to tutor students at a local elementary school.  Allen will be attending Georgia Institute of Technology in the fall and plans on studying electrical engineering.