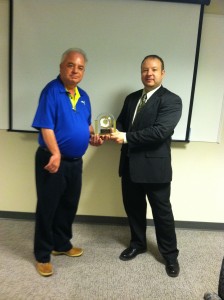 We would like to personally congratulate Greg Frey on his retirement as a State Farm Insurance agent.  In addition to being a State Farm agent, Greg Frey has also served on the Brooklyn Chamber of Commerce Board of Directors, City of Brooklyn Council, Brooklyn City Schools Board of Education, Brooklyn Kiwanis, as well as countless other organizations and committees in the City.  Everyone in the City of Brooklyn has enjoyed working with Greg and consider him a valuable asset to the community.
Greg Frey was one of the Chamber's founding members, back in 2002, and has been active ever since.  He has been extremely supportive of the Chamber's mission and in making our events a success.  Greg has served on the Board of Directors both as Vice President and President.  He has been very active in planning several of our large events, including Oktoberfest, Fall Fest, and Picnic in the Park.  Greg Frey always supports the Chamber through event sponsorships.  He also promotes our events and has spent countless hours volunteering his time to help make our events successful.  Several of our members through the years are a direct result of Greg's referrals.  Greg Frey is a true asset for both the Chamber and the Brooklyn community!  We are pleased to announce that although Greg has retired from State Farm, he has chosen to continue on has a Board member of the Chamber!
We would like to personally congratulate Greg on his retirement from State Farm. His hard work and diligence has greatly benefitted all who have had the pleasure of working with Greg.  We wish him the best in his future endeavors!