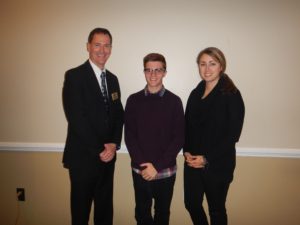 The Brooklyn Chamber of Commerce was proud to sponsor a Hire an Intern Program this past summer. Four area businesses welcomed Brooklyn High School juniors into their businesses and provided these students valuable workplace opportunities. The program matched the vision and mission of these two organizations and taught these interns valuable life and work skills.
In keeping with the vision of the Brooklyn City School District, "All Students Empowered for Successful Futures," BHS and the Chamber of Commerce teamed to offer internships over the past summer.  The Hampton Inn, the City of Brooklyn, Buffalo Wild Wings and the Town Planner provided real world work experiences for seven Brooklyn students. These students earned almost $10,000 in wages from these employers.  Brooklyn High School would like to thank these employers and also the Brooklyn Chamber for subsidizing $3550 in total to these employers.  These partnerships exposed our students to real world skills necessary for successful futures. Chris Ellis, manager of the Hampton Inn had these remarks about the experience, "Both of our interns were intelligent and hard working. They got an understanding of the challenges and demands of the American public in our setting."
Besides keeping with the district's vision, the Hire an Intern Program would further the mission of the Brooklyn Chamber of Commerce, which is to aadvance the commercial, financial, Industrial and civic interest of Brooklyn, Ohio.  Nina Pukys, publisher of The Town Planner Community Calendar, commented on her company's participation with the program, "I think that this is a great benefit to businesses and the students alike, and I hope that it is a program that will continue."
The Brooklyn Chamber of Commerce will continue the sponsorship of this program next summer. The hope is that new Brooklyn businesses will come forward and hire student interns to further the mission and vision of the Brooklyn Chamber and Brooklyn City Schools.
One of the student interns, Nicholas Bellisario, attended the Chamber's holiday social on November 10th.  Nicholas gave an informative presentation on his summer internship at the Town Planner and attested to all that he gained from his experience.  He continues to work for the Town Planner, while attending Brooklyn High School.  Nicholas is pictured above with Superintendent Dr. Mark Gleichauf and Nina Pukys with the Town Planner.