"Be Kind" Sign Scholarship Fundraiser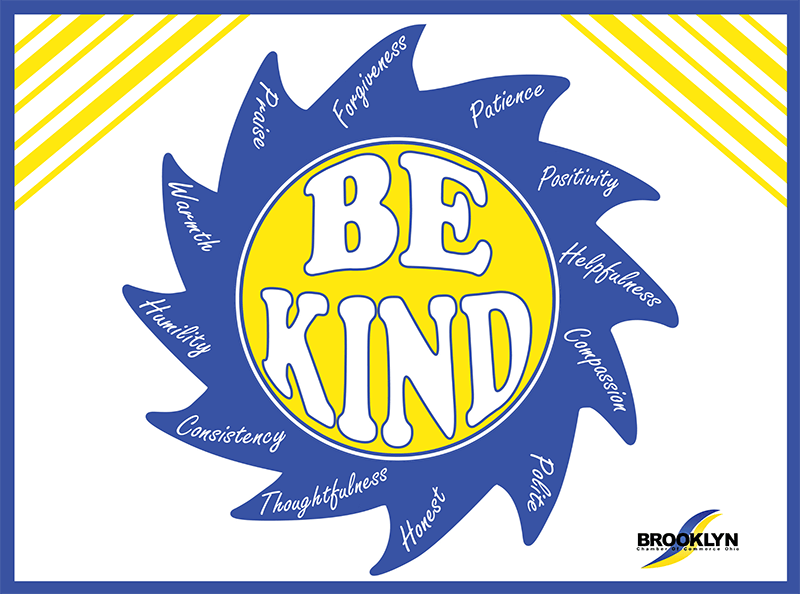 We are excited to announce our BE KIND sign fundraiser!!  Net proceeds benefit our Scholarship and Education fund.  We are asking for a minimum donation of $10 per sign.
In collaboration with the art department at Brooklyn High School and multiple submissions from talented artists, 11th grader Savannah David's design was chosen.  Congratulations, Savannah!
Due to Covid, our annual Taste of Brooklyn event had to be canceled for 2020.  We are hoping that the money raised in this fundraiser will offset the proceeds we lost this year, which was on target to be our most profitable event in history!  In 2019, we netted over $9,000 for the Scholarship and Education Fund, which allowed us to give two $2500 and three $1000 scholarships to our students for continuing education!
In 2020, we did have some contributions, despite the event being canceled.  These totaled $2,025.  Obviously, we are a long way off from our goal!!  We hope you will consider helping the Chamber and supporting Brooklyn City Schools.
Signs are AVAILABLE NOW and can be ordered by filling out the form at this link. If you pick up the sign you can pay cash or check upon pick up – you will be notified via email when signs are ready for pick up.  Deliveries require prepayment.
Signs are available for pick up and purchase at Brooklyn City Schools Board of Education (9200 Biddulph Rd; M-F, 8am-3pm), EmbroidMe (4311 Ridge Rd; M-F, 9:30am-4pm), and U.S. Shuai Chiao Kung Fu Academy West (4311 Ridge Rd; M-TH, 4pm-9pm; Saturdays 11:30am-2:30pm).