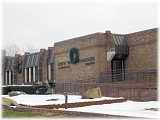 When former Mayor Kenneth E. Patton took office in January, 2000, one of the main objectives of his administration was to establish a venue where the local businesses could work with the City Administration to achieve continuing strong economic growth. The City of Brooklyn had no formal organization of businesses, such as a Chamber of Commerce.
The Mayor hosted an "Economic Development and Job Retention" seminar on Wednesday, July 12, 2000. The Seminar introduced the businesses to "the Greater Cleveland Economic Alliance Partners". Speakers at the Seminar included:
Cleveland-Cuyahoga County Port Authority
Cuyahoga County Department of Development
East Ohio Gas § First Energy
Greater Cleveland Growth Association
Medina Chamber of Commerce
Ohio Department of Development
Treasurer of State of Ohio
Former Mayor Patton established a Mayor's Advisory Board, which included about 35 local businesses to begin to establish a means of communication between City Administration and the Businesses in our community. One of Mayor Patton's goals was to unite the City of Brooklyn and area businesses to incorporate growth and development within our city.
In May of 2002 the Brooklyn Ohio Chamber of Commerce was incorporated. The Chamber is a not-for-profit voluntary organization of the business community. The mission for the Brooklyn Chamber of Commerce is to advance the commercial, industrial, professional, financial and civic interests of the community.
The Chamber's first General Meeting was held November 14, 2002 at KeyBank operations center on Tiedeman Road.