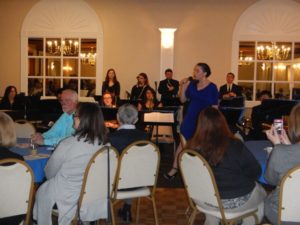 The 12th annual "Taste of Brooklyn and All That Jazz" Fundraiser, which benefited the Brooklyn Chamber of Commerce's Scholarship & Education Fund, took place on Saturday, April 28, 2018.  The event was a huge success in raising over $7,000 for the fund!  We had 300 people in attendance, which is the most we have ever had!  "Taste of Brooklyn and All That Jazz" took place at Copper Stone Catering and Event Center and featured the Brooklyn High School Jazz Band and the culinary expertise of many local restaurants and businesses.
For the 12th year in a row, Sean Sullivan and the Brooklyn High School Jazz Ensemble amazed everyone in attendance with their music.  They are truly an amazing group of students!  The event also included 50/50 and raffle basket tickets for sale.
A special thanks to Nick Jovonovich  and his staff at Copper Stone Catering and Event Center for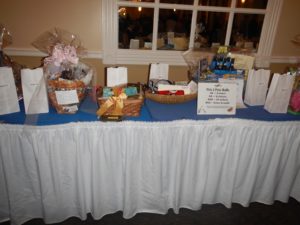 providing the venue for the event.  He also donated food, table cloths, decor, etc.  Nick truly went out of his way to make this year's event a spectacular evening for everyone!
The food vendors listed below put on amazing spreads this year!  They made sure that everyone in attendance went home stuffed!  All of the vendors donate their food and staff for the event…without their generous contributions, Taste of Brooklyn wouldn't exist!  Be sure to show them your patronage in order to thank them for their contributions.
I would also like to thank all of the dedicated volunteers who helped in making this event a success: Nick Jovonovich and his staff (Copper Stone Catering and Event Center); Jessica Cliff (U.S. Shuai Chiao Kung Fu Academy West); Andy Celcherts; Dr. Mark Gleichauf, Sean Sullivan, & Laura Baker (Brooklyn City Schools); Andi Udris (City of Brooklyn & Hofbrauhaus); David Hill (Dollar Bank);  Nick Maroulis & Campus Life Students; Ken & Sue Grodek (EmbroidMe); Jennifer Piechowski and her staff (KeyBank); Mike & Marissa Kissel & Sherry Skutnik (Memphis Kiddie Park); Jeff Suhay (PNC Bank); Kayley Thompson & Madeline Harrington.
The Brooklyn Chamber of Commerce is so thankful for all the people and businesses that donated their food, time, and space to make the "Taste of Brooklyn and All That Jazz" such a huge success.  We look forward to working with all of you next year!
FOOD VENDORS
Aldo's
Buffalo Wild Wings
Carrabba's Italian Grill
Copper Stone Catering & Event Center
Geppetto's
Hofbrauhaus Cleveland
Hooley House
Polaris Career Center
Rockne's
The City Diner
SPONSORS
Andy Celcherts
Copper Stone Catering & Event Center
Councilwomen Paulitzky and Ryan-Shockey
Dollar Bank
Dr. Mark Gleichauf
Ferrous Metal Processing
FirstEnergy
Friends of Nickie J. Antonio
Hampton Inn by Hilton
Hofbrauhaus Cleveland
KeyBank
Mayor Katie Gallagher
Richard & Barbara Balbier
Ridge Park Square
Teamsters Local 436
The City Diner
The Floor King
The Frey Family
Wally's Auto Service
Thank you to the following for their donations to the event:
Brooklyn City Schools
Brooklyn High School Jazz Ensemble
City of Brooklyn
Councilwoman Meg Ryan Shockey
Councilwoman Barb Paulitzy and Laurel Garden Club
Cynthia Woide
Debbie Simunek
Hofbrauhaus Cleveland
Horizon Education Centers
KeyBank
Laura Baker
Marco's Pizza
Memphis Kiddie Park
Sean Sullivan
U.S. Shuai Chiao Kung Fu Academy West
Westbrook Village Apts./K&D
Wally's Auto Service
Youth For Christ/Campus Life