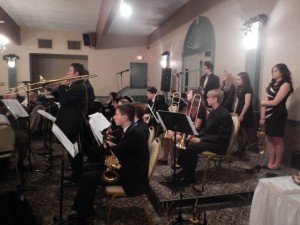 The 8th annual "Taste of Brooklyn and All That Jazz" Fundraiser, which benefited the Brooklyn Chamber of Commerce's Scholarship & Education Fund, took place on Saturday, February 22, 2014.  The event was a huge success in raising over $5,700 for the fund!  We had 185 people in attendance.  We set records in both net proceeds AND attendance!  Click here to view pictures of this year's event.
"Taste of Brooklyn and All That Jazz" took place at Ridge Manor Party Center and featured the Brooklyn High School Jazz Band and the culinary expertise of many local restaurants and businesses.    For the 8th year in a row, Sean Sullivan and the Brooklyn High School Jazz Ensemble amazed everyone in attendance with their music.  They are truly an amazing group of students!
Special thanks go to Don and Sharon Workman for inviting their family and friends to celebrate their wedding anniversary and Don's birthday at our event.  They have celebrated at Taste of Brooklyn for the last 8 years!  We cannot thank them enough for their support.
I would also like to thank all of the dedicated volunteers who helped in making this event a success:  Denise Christescu, Christine Ferraro, Leslie Racy, Duane Steets, Leon Harper (Westbrook Village Apts/K&D);  Sharon Glagola and her staff (Ridge Manor Party Center); David Hill, Jackie Lowe, Rick Lowe (Dollar Bank); Chris Ellis (Hampton Inn); Nick Maroulis & Student Volunteers (Youth for Christ/Campus Life); Fran & Bob Migliorino (City of Brooklyn); Jessica Cliff (U.S. Shuai Chiao Kung Fu Academy West); David Nodge (Brooklyn Adults Activities Center); Greg Frey and Mary Anne Frey (State Farm Insurance).
The Brooklyn Chamber of Commerce is so thankful for all the people and businesses that donated their food, time, and space to make the "Taste of Brooklyn and All That Jazz" such a huge success.  We look forward to working with all of you next year!
FOOD VENDORS
Aldo's
Applebee's
Carrabba's
LaVilla Conference and Banquet Center
Polaris Career Center
Ridge Manor Party Center
Rockne's
Skyline Chili
The Sausage Shoppe
SPONSORS
Ameriflag
Brooklyn Councilwoman, Kathleen Pucci
Brooklyn Education Association
Councilwoman Mary L. Balbier
Dollar Bank
Greg Frey, State Farm Insurance
Hampton Inn
Jinisha Patel, State Farm Insurance and Financial Services
KeyBank Operations Center
LaVilla Conference and Banquet Center
Loving Cup Kids Academy
Mayor & Mrs. Richard Balbier
Memphis Kiddie Park
Ridge Manor Party Center
Ridge Park Square
Teamsters Local Union #436
Triad Engineering and Contracting Co., Inc.
Westbrook Village Staff
Thank you to the following for their donations to the event:
Applebee's
AutoZone
Brooklyn Chamber of Commerce Board of Directors
Brooklyn City Schools Administrators
Councilwoman Mary L. Balbier and Sokolowski's Inn
Dina's Pizza & Pub
Dunkin Donuts
Five Below
Good Cents
Great Clips
H&R Block
Jim Ptacek
Love Threading Bar
Michael's
Nick & Joanne Maroulis
PNC
Ridge Park Square
Rockne's
Sam's Club
The Sausage Shoppe
U.S. Shuai Chiao Kung Fu Academy West
Westbrook Village Staff