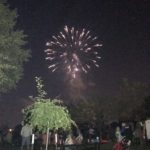 We would like to thank everyone who supported Picnic in the Park on Saturday, August 19th.  We are pleased to announce that it was by far, our most successful year!  The addition of the fireworks definitely increased the crowds and brought the Brooklyn community together to celebrate the end of the summer.
Once again, the Chamber had beer and wine available for purchase.  This proved to be a popular tent at the event.  Although we had 3 food trucks cancel right before the event opened, the 2 that were loyal to our event provided delicious selections at reasonable prices.  The Cedar Grill featured Mediterranean selections, while Hofbrauhaus offered tasty German food from their restaurant in downtown Cleveland.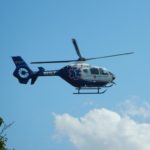 We had great entertainment by Time Warp Band and Fast Lane Cleveland, an Eagle's tribute band.  A successful corn hole tournament took place with the winners taking home cash prizes.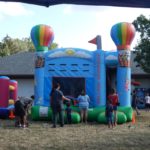 The children's area included a Home Depot building station, along with a bounce house and games sponsored by Nick Maroulis and Campus Life.  Thanks to the generosity of Campus Life and Home Depot, all children's activities were free.  Cleveland Metroparks NatureTracks was on hand with their mobile classroom and table of animal furs and fossils.  University Hospital's MedVac helicopter landed at our event and people were able to take a tour and talk to the pilots.  The City of Brooklyn also had a fire truck and ambulance available for people to look at and ask questions.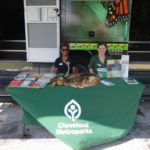 The raffle baskets and 50/50 raffle were a big success.  The following exhibitors were on hand to provide hand outs, giveways, and answer questions:   Champion Windows, Epilepsy Association, Friends of Brooklyn Library, Greenscape USA, Heritage Home Program, Horizon Education Centers, Jazzercise, Laurel Garden Club, Memphis Ridge Music Center, NEO Bubble Soccer, NOPEC, and University Hospital/Parma Community General.
A special thanks to Bob Hennings with American Fireworks for putting on an amazing display to end the evening.  Everyone in attendance was in awe!
We would like to thank the City of Brooklyn, especially Mayor Katie Gallagher, Economic Development Director Andi Udris, Service Director John Verba, and Chris Hovan for all their help with this year's event.  We would also like to thank EmbroidMe for donating T-shirts for all of our volunteers.  Without our sponsors, donators, and volunteers, the event would never have been such a huge success!  We hope you will join us next year!
Thank you to all our volunteers:
Nick & Joanne Maroulis (Campus Life/Youth for Christ)
Andi Udris (City of Brooklyn)
Andy Celcherts
David Hill (Dollar Bank)
Chris Ellis (Hampton Inn)
Jeff Suhay (PNC Bank)
Jennifer Piechowski (KeyBank)
Kayley Thompson & Madeline Harrington
Jessica & Daniel Cliff (U.S. Shuai Chiao Kung Fu Academy West)
Denise Christescu & Carol Varga (Westbrook Village Apts./K&D)
Thank you to our sponsors:
FIREWORKS SPONSORS
City of Brooklyn
Dollar Bank
Ferrous Metal Processing
Hampton Inn
Hofbrauhaus Cleveland
Hooley House
KeyBank
GOLD SPONSORS
Blue Jay Communications, Inc.
Dollar Bank
Hampton Inn
The Floor King
University Hospitals Parma Medical Center
SILVER SPONSORS
Andy Celcherts
EmbroidMe
Jinisha Patel, State Farm Insurance & Financial Services
Kathleen M. Pucci, Brooklyn City Council
KeyBank
BRONZE SPONSORS
Brooklyn Education Association
Mayor Katie Gallagher
Richard & Barbara Balbier
Ridge Park Square
Donators:
Auto Zone
Brooklyn Adults Activities Center
Carol Varga
Ferrous Metal Processing
Honey Hut Ice Cream
Mayor Katie Gallagher
Mars Trucking Racing Team
Richard & Barbara Balbier
Westbrook Village Apts/K&D